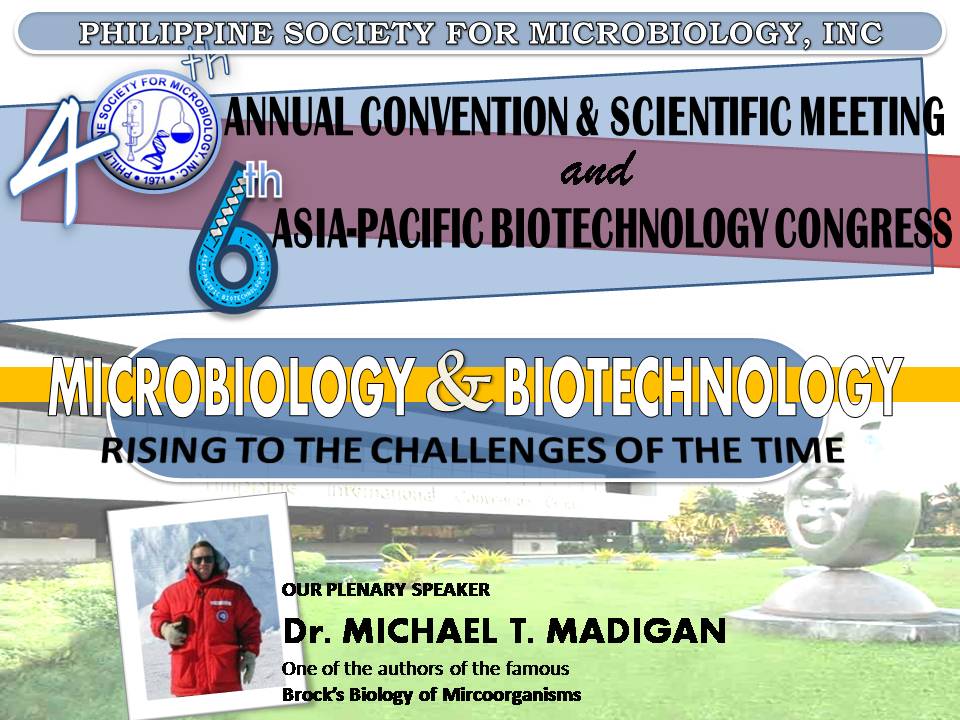 ABOUT THE CONGRESS
The Philippine Society for Microbiology, Inc. (PSM) with the support and cooperation of various institutions, convenes the Asia-Pacific Biotechnology Congress every five years to promote multi-country sharing of breakthroughs and collaborative research on microbial technology. First held in Manila in 1986, the Asia-Pacific Biotechnology Congress is simultaneously convened with the PSM Annual Convention.2011 marks a milestone in the history of the society as its celebrates the 6th Asia-Pacific Biotechnology Congress, coinciding with the 40th (Ruby) Anniversary of PSM. The theme Microbiology and Biotechnology: Rising to the Challenges of Time befits this momentous scientific meeting. Emergence of new challenges brought about by the changing times necessitates scientific disciplines to be proactive in anticipation to future needs. Countless cases have demonstrated the pivotal role of microbiology and biotechnology in providing solutions to the challenges faced by our community. This scientific meeting shall therefore be a venue for brewing creative researches and ideas to answer to the needs of our changing time.Among the distinguished speakers is Michael Madigan, the primary author of the famous "Brock Biology of Microorganisms"
SCOPE AND TOPICS
The congress will include keynote address, plenary lectures, contributed papers and posters in the following areas of Microbiology and Biotechnology representing the different divisions of PSM: Agricultural, Aquatic, Basic, Education, Environmental, Food, Industrial, Medical and Veterinary.
CONGRESS VENUE
The Venue of the Congress is the world renowned Philippine International Convention Center (PICC) situated at the heart of Manila. The convention center is strategically located at the Cultural Center of the Philippines (CCP) Complex, where one can witness the beautiful sunset at the Manila Bay.
 CONGRESS PROGRAMME
| | |
| --- | --- |
| May 10 2011 | Ealry Registration |
| | Ingress of Exhibitors |
| | |
| May 11 2011 | Registration |
| | Opening Ceremonies |
| | Poster Session and Judging |
| | PSM Awards |
| | Philippine Academy for Microbiology |
| | Ceremonies |
| | Plenary Session |
| | General Assembly and Bussines Meeting |
| | |
| May 12 2011 | Plenary Session and Best Paper (Undergraduate and Professional) |
| | Fellowship Night |
| | |
| May 13 2011 | Scientific Paper Sessions |
| | Closing and Awarding Ceremonies |
| | |
| May 14 2011 | Optional Tour |
 REGISTRATION INFORMATION
Participation in the Congress is open to all persons interested in Microbiology and Biotechnology. All persons planning to attend the Congress must register
 

Pre-
Registration

Onsite-Registration

Members
PhP 5,500
PhP 6,500
Non-Members
PhP 8,000
PhP 9,000
Undergraduate Members
PhP 5,000
PhP 6,000
Undergraduate Non-Members
PhP 6,000
PhP 6,800
Foreign
Participants
US $250
US $300
Day Rate
Php 4,000
Php 4,000
Accompanying
Person
(Foreign)
US $200
US $200
Accompanying
Person
(Local)
Php 5,800
Php 5,800
Full registration fee entitles attendance to all sessions, Convention kit, all meals during the convention, raffle tickets and freebies, fellowship night dinner. Accompanying persons are entitled to meals and fellowship dinner ONLY. Day rates are NOT GUARANTEED of convention kits. Senior citizens are entitled 20% discount.
PRE-REGISTRATIONSubmit complete Pre-registration form together with payment on or before

MARCH 31, 2011

. We accept payments either in cash, manager's cheque, telegraphic transfer or money order, made payable to the Philippine Society for Microbiology, Inc. For more information, please contact
Dr. Marian Pulido-De Leon, Ph.D.
Museum of Natural History U.P. Los Banos
College, Laguna 4031, Philippines
Tel No.: (+63)49 536 2884
Email: [email protected]Prof. Benigno Glenn R. Ricaforte
School of Hotel, Restaurant and Institutional Management
De La Salle – College of Saint Benilde, Taft Avenue, Manila
Tel No.: (+63)917 897 9853
Email: [email protected]
 CALL FOR CONTRIBUTED PAPERSPapers are invited on any of the aforementioned topics for oral poster presentation. The presenting author must be a pre-registered participant of the CongressDEADLINE:

FEBRUARY 14, 2011

Guidelines for submission:

Oral Presentation Non-Competing and Competing

Poster Presentation (Non-Competing and Competing)

For Inquiries contact the following:

Dr. Supachai A. Basit
Chair, Technical Sessions Committee
School of Medical Technology
Emilio Aguinaldo College
Tel No.: (+63)2 521 2710 loc. 5422
Mobile: (+63)2 917 821 1975
Email: [email protected]
Prof. Joel C. Cornista
Chair, Best Paper Committee
Miriam College
Tel No.: (+63)2 5805400
Email: [email protected]
Mr. Lorenzo M. Fabro, Jr.
Chair, Poster Paper Committee
BIOTECH, UP Los Banos, Laguna 4031, Philippines
Email: [email protected]


PSM AWARDSThe Outstanding Microbiologist, William L. Fernandez Excellence in Teaching Microbiology, Institutional and Individual Service Awards will also be given to deserving PSM Members and institution. Members of the Board of Directors are disqualified from participating in the competition. Deadline for nominations is on MARCH 1, 2011. Please click here for the requirements. For more information and submission of nominations, please contact

Mrs. Marilen Parungao-Balolong
Chair, Awards Committee
Department of Biology, College of Arts and Sciences
University of the Philippines,Padre Faura St., Ermita, Manila
Telefax: (+632) 526 5861

COMMERCIAL EXHIBITSThe Congress offers excellent opportunities for companies to exhibit and introduce their products and for participants to keep abreast with new technologies and innovations. Booth exhibition will be held at the Summit Lounge of the Convention Center. Please click on the following for the Souvenir Program Advertisement Sponsorship, Exhibit Space and Product Presentation Fee and Exhibitor's Layout. For further details and arrangement, please contact:

Dr. Gina R. Dedeles, Ph.D.
Chair, Exhibitions Committee
Department of Biological Science, College of Science
University of Santo Tomas, Espana Manila
Tel No.:(+63)2 406 1611 loc 1897
Email: [email protected] / [email protected]

 

CANCELLATION AND REFUND

The Congress Secretariat must be notified in writing. A refund of the registration fee, less than 20% administrative charge will be made for cancellations received on or before

APRIL 15, 2011

. No refund will be made for cancellations received after this date.

FOR INQUIRIES AND CONCERNS,PLEASE CONTACT:

 Prof. THADDEUS M. CARVAJAL
Chair, Secretariat Committee
St. Luke's College of Nursing – Trinity University of Asia
E. Rodriguez Sr. Avenue, Quezon City
Tel No.: (+63)27022882 loc 222
Email:

[email protected]


HOTEL ACCOMMODATION

For participants that wish to browse potential hotels that are near the Congress Venue, please CLICK HERE.