Membership to the society is classified as charter, regular, life, honorary, and sustaining. As of November 2019, PSM has a total of 9396 members. No special qualifications are required to become a member except an interest in microbiology.
To become a Member of PSM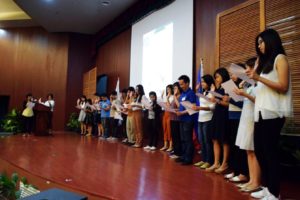 Must be a qualified professional or a student
Must be engaged and interested in advancing the objectives of the Society
Must be Registered User on Philsocmicro online. This will serve as your application form for the society
Must pay membership fee and first annual due set on the Fiscal Year through our Payment Channels available (Dragonpay, Bank Deposit, Gcash). Official receipts will issued onsite per request
Must be present in the next cluster symposia or convention to take your oath of Membership . Certificate of membership will be issued after taking your oath*
Due the recent events , Oath taking is done via Online Video Conference. Certificate of membership is sent to you digitally via email
Article IV, Section 1, states that any person or organization engaged and interested in advancing the objectives of the Society shall be eligible for membership.
PSM's membership is annual subscription to the society. Membership to the society requires a onetime payment of membership fee worth 300 pesos and first annual due of 300 pesos. Payments can be done either on site of cluster symposia or in the annual scientific convention and meeting or in advance online or bank deposit. For more information regarding online payments click here.
PSM only administers oath of membership on site either cluster 1, cluster 2 symposia and in the annual scientific convention . Failure to take an oath on one of the events mentioned above will not constitute membership to society.
As of the 44th Annual Convention, PSM has adopted online registration for membership.
For further information please read the Article IV and Article ARTICLE XIV
List of Regular and Life Members of PSM.
PSM has an academic and accrediting arm known as the Philippine Academy of Microbiology (PAM), the members of which are distinguished senior microbiologists in the country. You may visit their website at pam.psm.org.ph