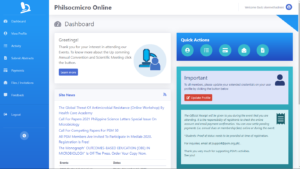 As of the 44th Annual Convention, PSM has adopted online registration for membership and or participation.
PSM Online account serves as your online digital ID for all events held by the national board of PSM ( Philippine Society for Microbiology, Inc). This allows an individual to have access to online services of PSM such as abstract submissions, payment processing ,event registration , invitation generation and exclusive downloads.
Having a PSM online account does not constitute PSM Membership. PSM keeps a separate database of it's members offline. If you want to become member of PSM, you can learn more about it by clicking on this link
As of the moment, the services that goes with it is limited to PSM national conventions and cluster symposia.
To get started all you need is a valid email address and login @ https://registration.psm.org.ph