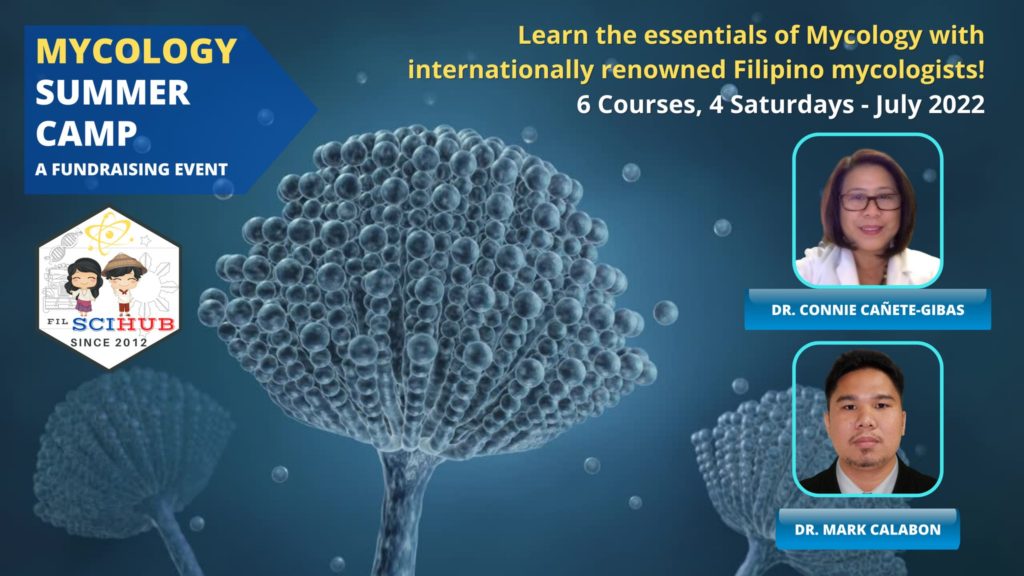 6 Courses, 4 Saturdays – July 2022
Featuring Dr. Connie Cañete-Gibas and Dr. Mark Calabon.
Curriculum:
–JULY 9: MYCOLOGY 101 – INTRODUCTION TO MYCOLOGY. Learn the different faces of fungi and discover things that they do.
–JULY 16: MYCOLOGY 102 – TAXONOMY AND NOMENCLATURE. Learn how fungi are classified and become aware of the recent changes in fungal taxonomy.
–JULY 23: MYCOLOGY 103 – STRATEGIES & METHODS IN FUNGAL IDENTIFICATION. Know the various strategies in fungal isolation for biodiversity studies and methods of fungal identification.
–JULY 23: MYCOLOGY 103: IDENTIFICATION OF AQUATIC FUNGI. Learn how to isolate and identify fungi from a specific niche i.e., aquatic fungi.
–JULY 30: MYCOLOGY 104: PUBLISHING NEWLY DISCOVERED FUNGUS SPECIES. Learn the steps in valid publication of a newly discovered fungus species.
–JULY 30: MYCOLOGY 105: HOW TO PREPARE PHOTOGRAPHIC PLATES OF NEWLY DISCOVERED FUNGUS SPECIES. Learn tips and tricks in getting photographic images and making good photographic plates.
REGISTRATION
To REGISTER: Fill out and submit the event Google form (scan QR code). Please note that proof of payment is required upon registration. A Zoom invitation will be sent via email once payment is confirmed.
FULL CURRICULUM
Full curriculum: Php 500.00
Student rate: Php 350.00
You may opt to take specific courses at Php 100.00 each
Payment via G-Cash: +63923-181-5628 (c/o Anna Marie Bunquin)
NOTE: This is a fundraising project. Proceeds of the Mycology Summer Camp will be used to support projects of Filipino Science Hub.