Due to insistent public demand, PSM will still accept C1 Registration (both for Onsite ad online) until November 22, 2022. Register now!
Registration Deadline Extended :Nov 22,2022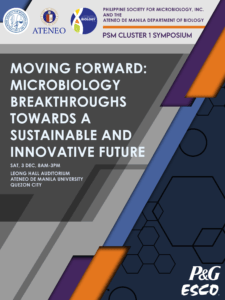 The Philippine Society for Microbiology, Inc. (PSM), will be holding its first ever hyflex event this year – the Cluster 1 Symposium with the theme "Moving Forward: Microbiology Breakthroughs Towards a Sustainable and Innovative Future" on December 3, 2022 via hybrid platform, with the physical venue at the Leong Hall Auditorium, Ateneo de Manila University, Katipunan Avenue, Loyola Heights, Quezon City. The symposium will feature talks related to trends and practices in five microbiology sub-disciplines namely Food Microbiology, Medical Microbiology, Basic Microbiology, Veterinary Microbiology and Microbiology Education.
Please note that the maximum number for on-site participants will be limited only to 200 to observe health protocol requirements.
A list of pre-registered participants will be generated and be given to the venue. only those names will be allowed in premises so please do not attempt.
Virtual participant will join via Zoom webinar platform. We repeat will only accept pre-registered participants. Strictly NO Walk-in participants.
Discounted Rates for Cluster 1 symposium FY 2022-2023
Remote (Via Zoom):
₱ 550 ( Non-member )
₱ 400 ( Member )
* On-site (Face to Face / Will be present at the venue ) :
₱ 1000 ( Non-member)
₱ 800 ( Member )
* On-site rate includes AM Snack, Lunch and Symposium kit.
Join us by pre-registering on the link below
Register here