This article was originally published on PSM Newsletter for July 2020 Volume XLVI ISSN 1656-2399
download the newsletter on the link below
PSM News Letter July 2020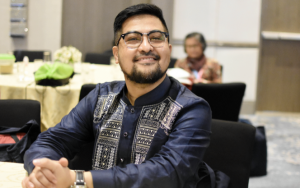 How could one give justice to a life well-lived of a well loved person? There are so many things to write about, but the heaviness in my heart pulls back the words and the tears wash away the trail of thoughts. Anyway, who in the Philippine microbiology community doesn't know Dr. Alonzo Gabriel? Al, a Professor of Food Science and Technology at the UP Diliman College of Home Economics, is known for his challenging exams, but also a beloved mentor of so many students he has guided in their theses through the years.
He's a sought-after speaker in various conferences and lecturer in Nutritionist-Dieticians' board exam reviews. He speaks amiably yet clearly, motivating you to listen to his talks. He is an indomitable presence in social media, always throwing his thoughts on various issues.
His passion in his work is undeniable and his excellence in his field is not left unnoticed. He is a University Scientist of the University of the Philippines and has received numerous awards both locally and internationally. He was awarded as an Outstanding Young Scientist by the National Academy of Science and Technology (NAST) in 2013, and as one of The Outstanding Young Men (TOYM) by the Philippine Jaycees, Inc. in the same year. His awards also include the International Union of Food Science and Technology Young Scientist Excellence Award (2013), The Outstanding Young Persons of the World (2014), the Japan International Award for Young Agricultural Researchers (2016), and NRCP Lifetime Achievement Award for Biological Sciences (2019). This is truly a remarkable feat for someone who is barely into his 40s. His most notable award probably is as one of Metrobank Foundation's Outstanding Filipinos in 2017. His awards truly describe him – outstanding. But Al is not only outstanding in his work. He was also an outstandingperson in character and attitude. He was a doting son, who was always proud and thoughtful of his mother. Amidst all the accolades, he remained humble and easy to please.
He has served the PSM as a Board Member since 2015 and has always brought laughter and showed his love to the board and the society. I had thus been overjoyed when he accepted the VP position during my term as President. I cherished his support and cheered him on as he assumed the PSM Presidency. The PSM board cheered him on as he led the society on its 49th year, with courage and optimism, while battling cancer.
How could one give justice to a life well-lived of a wellloved person? We will always remember him. We will not forget that we are lucky that he has chosen PSM to serve
and spend his good days during the short time he had in this world. Mananatili ang kawingan na binuo nya sa PSM sa darating pang panahon. Maraming salamat, Alonzo! –