The following articles was originally published on PSM Newsletter for July 2020 Volume XLVI ISSN 1656-2399
download the newsletter on the link below
PSM News Letter July 2020
Cluster 1 Symposium Gathered Together Experts for Sustainable Microbes-based Technology Discussions Focused on Food Security and Health

The Cluster 1 Symposium was held last November 16, 2019 at the Far Eastern University Auditorium, Manila with the theme "Sustainable Microbes-Based Technology for Food Security and Health". The symposium gathered six experts coming from the industry, food, education, health, and veterinary sector to discuss important updates related to the theme. Dr. Ena A. Bernal (Universal Robina Corporation) talked about updates on quality and food safety standards for microbiologists for industry practice. Application of these standards were highlighted by the talk of Miss Carole Bernad (McDonalds Corporation Philippines) which followed as she supported the importance of compliance to food safety practice from end-to-end. The need for training and curriculum adoption for food safety and health in Microbiology courses was emphasized by Dr. Thomas Edison Dela Cruz (UST) challenging higher education institutions (HEIs) to redesign their curriculum and be abreast with global standards and competencies. As food is related to one's overall health and wellbeing, the talk of Dr. Francisco B. Elegado (BIOTECH-UPLB) provided an overview of functional food development and shared some view on its implication to health and food safety which was followed by a talk to understand the importance of microbiome research in food security and health given by Dr. Leslie Michelle M. Dalmacio (UP Manila). Lastly, Dr. Loinda R. Baldrias (UPLB) showed initiatives on how to ensure food safety and food security to benefit the livestock sector.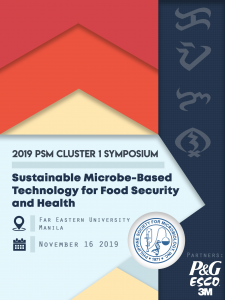 A total of 884 participants attended this year coming from various higher education institutions, industry, health care facilities, government and private institutions and microbiology enthusiasts. There were 48 new members and 8 new life members sworn as well. This symposium, sponsored by P&G, ESCO and 3M was cohosted by the Department of Biology, Far Eastern University Manila led by their Chair, Miss Benilda O. Laza. The Cluster 1 Team for 2019 is composed of Marilen P. Balolong, as its Chair, Howell T. Ho, Angella Melissa A. Carlos and Ronilo Jose D. Flores. The event was successful because of the efforts of the people behind the symposium.
---
Cluster 2 Symposium Microbiology: From Concepts to Applications Towards Sustainable Development
This year marked many firsts in the history of PSM. This is the first time that a cluster symposium has been, unfortunately, cancelled; it followed with the cancellation of the PSM 49th Convention; and holding of the very first PSM webinar series. This happened because of the pandemic that changed the lives of everyone worldwide. And all of these transpired in just a span of 4 months. Also, within that same span of time that the then current PSM President Dr. Alonzo A. Gabriel passed away and then Vice President Prof. Joel Cornista took over the helm of PSM.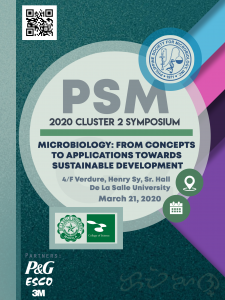 After 10 years, De La Salle University-Manila was again hosting a PSM Cluster symposium. The symposium was supposed to be held at The Verdure, 4th floor, Henry Sy hall, De La Salle University-Manila (DLSU-M) on March 21, 2020 with the theme, "Microbiology: From Concepts to Applications Towards Sustainable Development". The invited speakers were as follows: Dr. Ronie J. Calugay (UP Baguio): Lights, Bacteria, Action!; Dr. Milagrosa Martinez-Goss (UPLB): Fighting Malnutrition, Poverty, and Global Warming: Gifts of Algae to the World; Engr. Ivan Henderson V. Gue, MSc (FEU): Processing Integration of Microalgal Plant; Dr. Charina Gracia B. Banaay (UPLB): Rooting for Earth: The Role of Rhizosphere Ecology in Achieving the 2030 Global Agenda; Dr. Jocelyn T. Zarate (UPLBBIOTECH): Harnessing Beneficial Microorganisms as Biofertilizers for Sustainable Development; and Mr. Joseph S. Garrido (DA-BAFS): Microbial Inoculants Used in Organic Farming.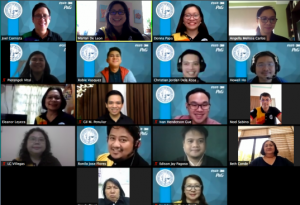 It was all systems go, however, the unfortunate event of the COVID-19 pandemic set-in and the declaration of different levels community quarantine by the Philippine government which up to this writing is still in place. Thus, it was decided by the PSM Board that Cluster 2 symposium is cancelled. As months passed by, it was clear that a new normal for sharing knowledge is becoming more and more prominent – that is, going online. On June 27, 2020, the PSM Board decided to revive the Cluster symposium in the form of a webinar. The cluster 2 committee was assigned to handle the organization of the PSM's 1st ever
Webinar Series with the same theme and the same speakers and was scheduled on July 16-17, 2020.
The following were the schedule of presentations: July 16 (Dr. Jocelyn T. Zarate, Dr. Milagrosa Martinez-Goss, and Engr. Ivan Henderson V. Gue) and July 17 (Dr. Charina Gracia B. Banaay, Dr. Ronie J. Calugay, and Mr. Angel A. Barnes) On the day of the event, a total of 330 participants were recorded for Day 1 and 352 participants on Day 2. Participants of the webinar came from all over the Philippines, not just from NCR as what is usual in a Cluster symposium. It even had participants from other countries (Indonesia and US). With this, the first-ever PSM Webinar series can be concluded as a success. The webinar series was shown using 2 online platforms namely ZOOM and Youtube livestream. The webinar series ad-hoc committee are composed of Mr. Christian Jordan O. Dela Rosa, Mr. Robie Vasquez, Dr. Noel G.
Sabino, Dr. Lucille C. Villegas, Dr. Donna May C. Papa, Mr. Edison Jay A. Pagoso, Mr. Kenneth Guinto, and Mr. Bonie B. Datul.