Cluster 2 Symposium 2013 Harnessing Microbes as Catalysts of Industrial Development and Environmental Sustainability
---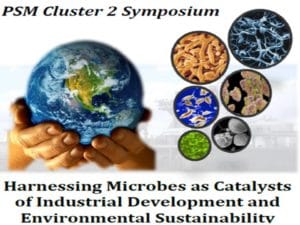 PSM along with P&G Philippines and in cooperation with the Department of Biology Ateneo de Manila University cordially invites everyone to attend the Cluster 2 symposium entitled "Harnessing Microbes as Catalysts of Industrial Development and Environmental Sustainability". This will be held at the Ricardo and Dr. Rosita Leong Hall Ateneo de Manila University – Katipunan Avenue, Quezon City on January 19, 2013.
In this year's PSM cluster 2 symposium, we look back at some microbes harnessed for industrial development and environmental sustainability. With this in mind, we invited seasoned speakers from the academe and the industry to talk about the role and the applications of microorganisms. We have invited an Outstanding Young Scientist awardee to introduce the microbes in our body, two young professors engaged in researches on aquatic microbiology, and a scientist engaged in research on the domain Archaea. We are also privileged to have two experts in dairy and pharmaceutical industries. Finally, a webinar with a guest speaker from the USA through the American Society for Microbiology will update us with the trends related to environmental microbiology. We enjoin you to participate in this symposium as it will highlight the tremendous contribution of microorganisms towards a sustainable planet.
Please click here to download the registration form and flyer of this event.